Additional Devices & Preferences
Duo two-steps allow users to register multiple devices for two-step login. We strongly urge students to register more than one device to your account to avoid possible losing access to UCSD accounts in the future. 
For users who do not have access to a mobile phone or tablet, UCSD provides a free token for students. A token can be picked up anytime at our front desk at your convenience. Please come to our front desk with a valid photo ID to receive a token. 
What is a token?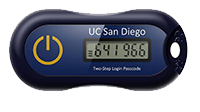 A token is a small device that will generate a 6 digit passcode which can be entered as an alternative form of authentication. It does not have to be charged and can be used even if there is no cell or Internet service. A token will be provided to students as an alternative to a mobile phone or a tablet at our front desk. It is free of charge and can be picked up on a walk-in basis. For information on our Service Desk location and hours, please check out our Get Help page. 
On Duo Mobile app
The Duo Mobile app can provide users with a 6 digit code to enter even if there is no cell or internet service. This is perfect if you are traveling abroad where you may not have internet or cell service. Simply open up the Duo Mobile app on your phone or computer, and click "UC San Diego Campus." The codes are temporary and pressing the arrows will generate a new 6 digit code for you to use. Enter the code with no spaces to authenticate using the passcode method.
Texting Temporary Codes
When logging in, the "Text Me" option will send you a 6 digit passcode that you can enter to authenticate. This code will only work one time. 
A new device can be added by logging into duo.ucsd.edu. Log in using Active Directory credentials and authenticate using the current device registered on your account. Once you are in "My Settings & Devices," click "Add another device" to register another device to your account. This portal can also be used to delete, reactivate, or change the primary device.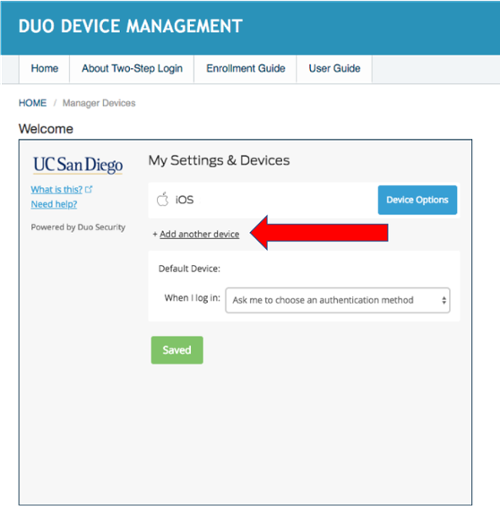 Upgrading to a New Device with the Same Number
If your device has changed but you still have the same number, you will need to re-activate your Duo Mobile for your account. Make sure you have installed the Duo app on your new device. Then, please log into duo.ucsd.edu using your Active Directory credentials. Once you log in, use the "Call Me" method to authenticate.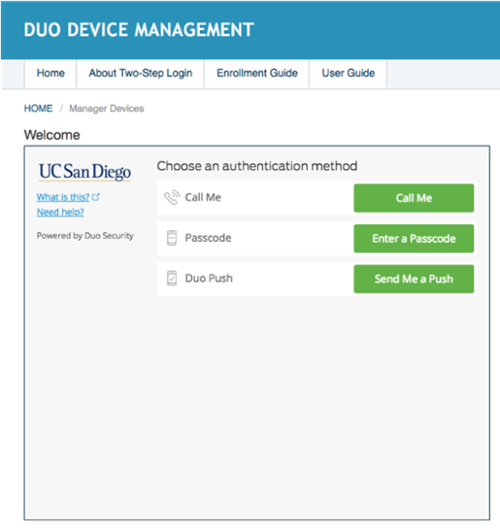 In your Duo Device Management portal, click on "Device Options" for your phone. After, there will be a button to "Reactive Duo Mobile."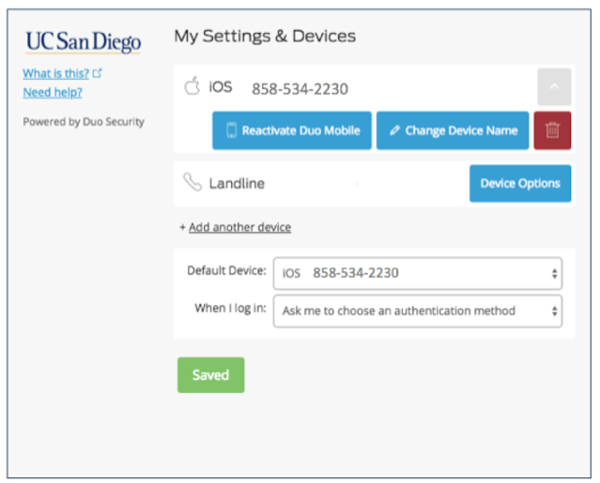 New Device with a Different Number
Have you replaced your phone with a different phone number? Users who have a back-up device set up for Duo can add the new number using the Device Management Portal. Log into duo-registration.ucsd.edu using your back up authentication device, and add your new phone number to your account. 
If you have not set up a back-up device and have no way of authenticating your log-in, please come to our Service Desk at your earliest possible convenience. Our ResNet technicians will verify your identity with a valid photo ID and help you regain access to your accounts. For information about our Service Desk location and hours, please check out our Get Help page.