ITS Service Desk / ResNet Technician

Apply Online
Applications for Fall 2023 are open. Apply Here!
Note: Applications for Summer 2023 have been filled and are currently closed.
About ResNet Student Technicians
Information Technology Services/ResNet needs students that enjoy helping people and have an interest in computer hardware, software and networking. Primary responsibilities include assisting customers through email, over the phone, and in person.
Prior computer/networking knowledge is a plus, but is not required to apply. Some of our best technicians started with little technical knowledge, but were willing to spend extra time to learn the topics they were weak in. Service Desk technicians come from a variety of backgrounds.
This is primarily a customer service position.
Why Work Here?
Many of our technicians find jobs almost immediately after they graduate because of the experience and training they gain. Below are companies where our technicians have gone to work after graduating!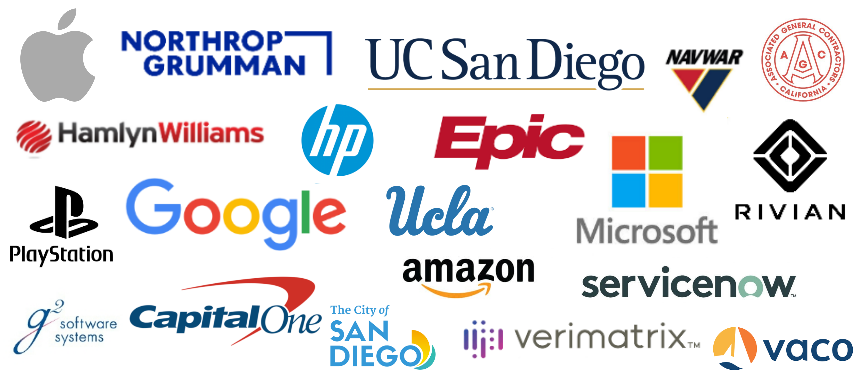 We have also had students who decided to move on to graduate school after graduation! Those who go to UCSD grad school still continue to work at the ITS Service Desk / Resnet as a graduate student!
We are a group composed of friendly and wonderful people, who are looking forward to working with you!
Desired Qualifications
Registered (enrolled in UC San Diego classes) UC San Diego undergraduate or graduate student
Familiar with network troubleshooting
Knowledge of a variety of operating systems and general troubleshooting for hardware and software
Excellent customer service skills
Excellent listening skills
Able to solve complex problems
Works well with others, while having the maturity and initiative to work independently
A strong desire to learn
Expectations
Work 40 hours a week during Move-In week and Welcome Week, and for the week prior
Work approximately 15 office hours a week (7 days a week) during the school year
Work schedules are flexible with your academic schedule
Pay Rate
ResNet technicians start at $18.05 per hour as part time student staff
Tips for Getting Hired
Read the information on this page and the application carefully!
Research what services ITS provides and what we do at the Service Desk
Have a few friends look over your resume and ask for suggestions
Put effort into making your resume professional and ensure it is up-to-date. We read every resume and application by hand.
Be professional in your application and correspondence.
Have a friend do a mock interview with you, and know how to get hired